New Technology Alert! Invisible Induction Cooktop Countertops
New Technology Alert! Invisible Induction Cooktop Countertops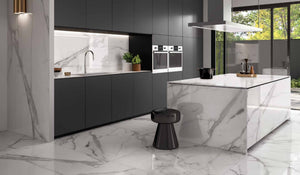 As promised, once a week I will be showcasing one of the amazing new technologies that I was privileged to discover at the CERSAIE 2023 Exhibition. Today I will focus on this incredible find. Invisible induction cooktop technology, while still new and becoming more mainstream, has evolved and one induction cooktop I discovered really impressed with some new features I have not found in some of the other brands. 
In this article I will provide an overview on how induction countertops work, the benefits of invisible induction countertops, disadvantages of induction countertops, what is different about the countertops we discovered and some links to several articles, blogs and videos should you wish to do more research. 
How Induction Countertops Work
Induction systems operate through a magnetic field. The induction is produced by generating a magnetic field in contact with a metal container. The induction plate detects a container on its surface, by means of magnetic waves, it agitates its particles, heating it and cooking the contents. Most induction countertops require special pots or pans and have special matts to help the magnetic field work at an optimum.
Benefits of Invisible Induction Countertops
Safety
o   No heat is transferred to the surface, which makes it safe to use even for kids.
Elegant Yet Functional
o   Supports the trend to "hide" your appliances such as fridges, microwaves, etc. and can support a minimalist design.
o   A seamlessly designed kitchen countertop made for dining and entertaining. A space saving feature; especially useful in small kitchens.
o   Many of the Invisible Induction Countertops can be controlled using an app on your phone which is a great feature, especially if you are concerned about whether you turned off your cooktop.
Energy Efficient
o   Uses less energy than traditional electric systems and gas without compromising the cooking quality.
Versatile
o   Available in a wide range of colours and effects that perfectly fit any style and can be installed indoors or outdoors.
Easy to Clean
o   Made of non-porous material that does not harbor molds and bacteria, making it food-safe and easy to clean.
Inside | Outside Use 
Most invisible induction cooktops that are used with porcelain countertops can be used both indoors and outdoors. 
Disadvantages of Invisible Induction Countertops
Need for Specially Design Pots/Pans
o   All of the systems we researched require specialized pots or pans which comes at an increased cost.
Budget
o   To change your kitchen over to invisible induction countertops can potentially be costly so when working with clients we need to keep this in mind and set expectations; however, on new-builds the cost is significantly decreased as a countertop purchase is a requirement. Porcelain countertops are necessary to work with induction cooktops and it would be wise to also purchase the matts that assist the induction to occur and protects the countertop surface.
Difference In the Countertop we Discovered in Cersaie
No Extra Purchase of Specialized Pots/Pans Necessary
o   Finally, the technology has evolved so that any pot or pan you own can be used on this invisible countertop!
o   The matts for magnetic transfer are not a necessity but are recommended to preserve the life of the countertop and decrease the time required for food to cook.
Safety
o   We found the porcelain countertop had no heat transferred to the surface, which makes it safe to use even for kids.
o   In addition, the system underwent thorough testing and meets all the requirements and regulations, making them safe for domestic and commercial use in many countries.
o   The system is currently approved in USA and they are seeking CSA Approval for Canada.
Remote Control
o   The system app includes; Zone Control, Timer, Power Control, Temperature Control, and Security Shutdown.
Countertop
o   There are over 50 countertop finish options available in this particular system.
o   1 year warranty on the system and for a minimal amount you can purchase an extra year.
o   Currently thickness of the countertop is 12mm – 14.5 mm with testing in progress for thicker material.
o   Porcelain countertops are full bodied porcelain.
Additional Resources
We are providing you with additional resources should you wish to research more on this topic. Unique Versatile will be bringing in the product we viewed in Cersaie and we will be ready to announce the brand once CSA approval has been granted. Stay tuned as we keep you informed.  To learn more about our exciting new find contact us:
Unique Versatile Email:  info@uversatile.ca Telephone :  1 (780) 454-4137
Video :
 https://www.bing.com/videos/riverview/relatedvideo?q=what+is+an+invisible+cooktop%3f&mid=C72EBCE887FE4C2AAFBAC72EBCE887FE4C2AAFBA&FORM=VIRE
 Articles :
https://www.bhg.com/invisible-cooktops-7971161
Invisible Cooktops Are Designed For All Your Small Kitchen Needs (housedigest.com)
Invisible stovetops — what are they and should you get one? | Tom's Guide (tomsguide.com)
https://www.thekitchn.com/invisible-cooktops-induction-23214298