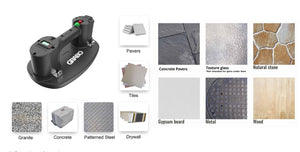 Grabo Pro-Lifter 20
Unique Versatile is proud to be a distributor of Grabo products and accessories!
----------------------------------------------------------------
Edmonton Fall Home Show:
Booth #359
The first five people at booth #359 at the Edmonton Fall Home Show to purchase a Grabo on each of the Fri - Sat - Sun receive $20.00 off! See you there!
----------------------------------------------------------------
GRABO suction cup technology offers incredible adhesion to awkward, often unmanageable surfaces.
Traditionally, standardised suction cups require clean, flat surfaces for perfect adhesion and hold. For example, airtight panels and glass panes usually fulfil such a brief. GRABO technology, meanwhile, offers incredible suction and lifting power on etched, rough and otherwise irregular surfaces.
More Info
Dreamwalls & EMOTILE
Choose from a selection of 23 bold, colorful and sophisticated porcelain murals from our Dreamwalls collection or create your own customized premium tile wall from a favorite photograph or image.
New technology, from Spain, called EMOTILE makes your favorite photograph or image come to life on premium quality
tile.  You can have an exclusive,
one-of-a-kind; bathroom, shower, living room, kitchen, fireplace, bedroom, café, spa, fitness room.   The possibilities are endless. 
Dreamwalls and Emotile breaks with established barriers and gives a special touch to walls in homes, hotels and even restaurants.
Catalogue
Why Choose Large Format Tile?
The trend for large format tile has made its' way to Western Canada and is becoming more and more popular.
Discover the benefits of large format tile:
- creates the illusion of a larger looking space,
- provides a contemporary, high-end allure,
- fewer grout lines necessary,
- smart choice for barrier-free showers,
- seamless counters and backsplashes,
- incredible options for Outdoor 2cm pavers.
Don't loose out - contact us today!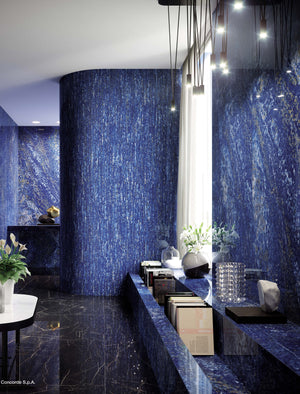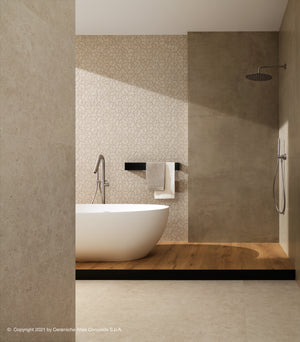 Why Choose Unique Versatile Ltd.?
At UVT we are interested in ensuring you have a successful project. To that end we provide a customer service line for support, training for your installers on the best installation practices, and you can recieve 3 LEEDS Points on all our tile. Our tile is eco-friendly and ISO certified.
Choose Unique Versatile for your next project and see the difference customer service provides.
Get In Touch
Unique Versatile Ltd.
16674 - 114 Avenue
Edmonton, Alberta
Mon - Fri: 7:30 am - 4:30 pm
Saturday: 9:00 am - 3:00 pm

Holiday Hours:
Saturday: September 2, 2023 - Closed
Monday: September 4, 2023 - Closed
For urgent inquires contact Jeff Martens 1 (780) 667-4807