Five Decorating Trends That Will Accompany Us Throughout 2023.
Five Decorating Trends That Will Accompany Us Throughout 2023.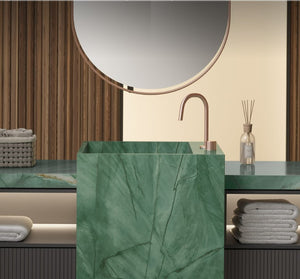 Details inspired by nature, reassuring or vibrating colors, care for sustainability and functionality. The new year comes full in inspirations for a welcoming and comfortable house, where porcelain stoneware takes canter stage.
Here are five trends that will accompany us throughout 2023.
1.  THE EXPLOSION OF GREEN
Among the star colors of 2023 is green in all its shades to be used as a wall tiling or as an eccentric detail in a room. 
Elegance, calm and a praise for nature that is increasingly present in interior design. 
Among the Atlas Plan proposals is the new Exotic Green, the large marble-effect stoneware slab in a deep, vibrant green background rippled with light shades.
2.  THE CALL OF NATURE
The desire to get out and explore the wonders of the outside world and the strong focus on green issues led to a strong reconnection with nature. A trend already present in our homes and tending to evolve, becoming more playful and daring.
Decorative surfaces with intertwining shapes and colours inspired by natural elements and the call of tropical atmospheres will bring well-being and personality to the rooms of our homes.
The new Caleido project by Atlas Plan goes in this direction: nature and aesthetics meet to create geometric visions and combinations of light, pattern, decoration and colour.
3.  SUSTAINABLE BEAUTY
Nature also enters furnishing trends through the choice of sustainable and high-performance materials used as finishes, furniture and wall tiles.
Porcelain stoneware is environmentally friendly, sustainable and durable; it is a material with extraordinary technical and performance characteristics and is one of the most environmentally friendly options available among surface covering materials. The perfect solution for those who want to minimise their impact on the environment.
4. MINIMAL STYLE IS RECONFIRMED
A trend that has been popular for years and is once again among the most trendy and loved furniture styles in this new year.
Essential lines, functional elements, delicate and neutral colours are the typical expression of this modern and sober language.
The contemporary and minimal soul of the concrete-effect slabs creates the ideal surfaces to combine pure aesthetics without neglecting great visual impact. Atlas Plan offers a wide range of slabs in different warm and cold colour tones: from whites to light greys up to neutral colours inspired by the world of clays and earths.
5. PORCELAIN STONEWARE FLOORING
Porcelain stoneware is one of the most popular options for floor tiling also in 2023. This material not only reproduces any kind of colour, texture, pattern or material effect, but is also wear-resistant and easy to clean.
Thanks to their compact and non porous surface, porcelain stoneware slabs do not retain dirt and are easily cleaned with a damp cloth and warm water, without the use of impregnating agents, waxes or special polishing treatments.
The wide variety of finishes and sizes available in the Atlas Plan and Atlas Concorde catalogue also allows for matching floor slabs with those of walls, tables and furniture to create coordinated solutions or interesting mix and match compositions.
Reprinted from Atlas Plan
Decorating your home with porcelain stoneware: five trends for 2023 (atlasplan.com)