Design Trends 2022 - Emotional Escape Rooms - Home Message Rooms
Design Trends 2022 - Emotional Escape Rooms - Home Message Rooms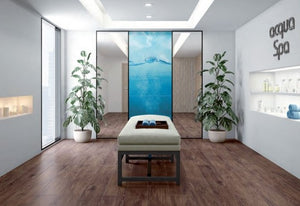 Sharron Martens
January 10, 2022
Emotional Escape Rooms
While the pandemic is taking it's toll, so too is the harsh Canadian winter. Paisley Tedder in a blog for "Good Homes Magazine" says, "Emotions are trending right now. After almost two years of being confined to our homes, it's no wonder people want to create their own oasis to get away from it all within their interiors". She indicates that Pinterest has experienced 190% increased searches for home message rooms.
Who can blame us? If you promise heated floors I am all in! I do not know about you but the idea of "zenning" and blocking out all my cares, even for a few hours is priceless - masseuse or no masseuse!  Two years ago when the pandemic first hit, there was a mad rush to create indoor workout rooms, now that the majority of us have found work-arounds to replace attending crowded gyms, I can understand how we could be transitioning to home message rooms. 
The link between our emotional and mental health and architecture and the designs we create in the spaces we live and work has long been acknowledged. That being the case one must ask, is there a way in which we can use architecture and design to reduce our stress levels and increase our physical and mental health? Goodness knows we need it. Although society can sustain a certain level of stress short-term, the ongoing stress-levels we currently experience have had a negative impact on the majority of Canadian's mental health. Morneau Shepell (2020) found that 81% of Canadian workers reported the pandemic has negatively impacted their mental health. A way to de-stress is no longer a luxury but has become a necessity.
As we strive to find a "new normal" we are also learning to become more innovative in our stress management strategies, all the while doing it from the safety of our home. For many of us, it is much more difficult to easily book a get-away vacation and hop on a plane to jet to a warmer climate locale, at least for now. Deco tiles that help us escape from the realities of life and transport us to an exotic location, or tiles that provide peaceful visuals and opportunities for deeper thought might just be the next big trend that helps us escape - if only just for a short while. Manufacturers of large format porcelain tile have been quick to respond by providing us with many tile design options and sizes; from bioptic designs, abstract art, scenic adventures that help us transport ourselves to another place and time. I do not know about you but I am ready for an adventure!  Beam me up Scottie!
For more inspiration on the emotional escape rooms view our video on YouTube called "Emotional Escape Rooms"!
Stay safe, healthy and warm everyone!