Design Trends 2022 - #1 Outdoor Living Rooms
Design Trends 2022 - #1 Outdoor Living Rooms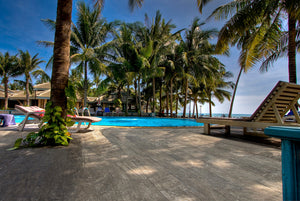 I am so excited to be doing this series on 2022 Design Trends! There are so many interesting designs coming forward this year and I can not wait to share with you what the experts are saying. Each week we will focus on one trending design item that pertains in some way to tile. So here we go!
Outside Living Rooms
I do not know about you but living in Western Canada I really need a break from this cold weather and snow!  I long to enjoy the warm weather, green lawns and trees, flowers, and all the benefits it brings to my senses (even if it is only virtually). We will be exploring the trend we started seeing in 2021 which appears to be picking up steam in 2022 where our indoor living room meets the outdoors!
Why have Outdoor Living Areas become so Popular?
The advent of Covid-19 has brought about many changes in our daily lives and one of the most obvious is how we social distance from others.  We are still social creatures, at heart, so we have had to become inventive to social distance and at the same time have the capability of forming close bonds and relationships with others. To do so, we have expanded our living areas into the outdoors, in order to achieve several objectives:
Social distance,
Enjoy the psychological benefits of the outdoors (greatly needed during these stressful times),
Commune with nature,
Breathe fresh air,
Maximize the space and utility of our homes.
What is an Outdoor Room?
Outdoor living areas have become a reflection of the comfort and style you enjoy within your own home.  In a blog by Verdana titled, Interior Design Trends 2022, the author Lauren Wicks (Oct. 19, 2021) notes how, "It used to be that outdoor living areas were one of the last topics to be discussed on our projects and by that time, clients had often run out of money and/or suffered from a serious case of decision fatigue," says Jean Liu. "However, the pandemic has changed the priority this part of the house takes. Serious dollars are now being allocated to outdoor living at the onset of every new residential project, and we do not see this waning in 2022."
Houzz "search data has shown that people want their backyards to be relaxing extensions of their interior living spaces. And one of the best ways to achieve that is by mimicking interior space outdoors." 
Best Ideas for Outdoor Living Spaces?
Technology has made advances in outdoor materials, which in turn has allowed manufacturers to create both stylish and durable material. This is certainly the case with Porcelain 2 CM tile used for creating the latest design ideas for outdoor living areas. You will find porcelain 2 cm tile to be:
Durable enough to withstand:

Heavy use,
Spills and stains,
Leaves and debris,
Climate such as:

Rain,
Wind,
Heat,
Humidity,
Sunlight,
Snow/ice.
If you are concerned about hygiene and safety factors, the Tile Council of North America (TCNA) states that ceramic and porcelain tile is one of the best choices as it is:
VOC-Free (Volatile Organic Compounds),
Formaldehyde-Free,
PVC-Free (Polyvinyl Chloride),
Fire Resistant and Smoke-Free,
Non-toxic,
No plastic.
Furthermore, porcelain tile undergoes some of the most stringent testing criteria to meet fungal and bacterial resistance specifications set forth by the TCNA. You will also find it to be frost resistant, able to withstand high abrasions, and stain resident. In our Western Canadian climate an extremely important factor is slip resistance and many options have slip ratings of R10 and R11
Use porcelain pavers on:
Top of grass (example: pathways) - no sealing required
Top of gravel (example: driveways) - no sealing required
Top of sand (example: gazebos) - no sealing required
Raised installation (example: rooftops, balconies, decks)
Specialty pieces (example: swimming pools, hot tub areas).
Where using porcelain pavers in an application where no sealing is required you are making environmentally friendly choices where no harmful chemicals or toxins can leach into the environment.  Many distributors can also provide LEED friendly options as well.
To get inspiration on the outdoor area you want to create view our video on YouTube called "Outside Living Rooms"!
2022 Design Trends #1: Outdoor Living Rooms - YouTube